POINT CHARGE – PLASTIC (PC-P) 100
900 GRAM N.E.Q.
Havoc Industries specializes in the design and manufacture of explosive charge casings for a range of industrial and military end users. The Point Charge – Plastic 100 has been developed for producing penetration results similar to a Rocket Propelled Grenade round. The charge incorporates a conical base to focus the explosive energy for shattering a target, if required.
The penetration of this charge can be improved by fitting a conical metallic liner into the base.
While primarily designed for filling with liquid explosive, the top of the casing can be adapted and a fill such as plastic or cast explosive used instead.
THE POINT CHARGE CASING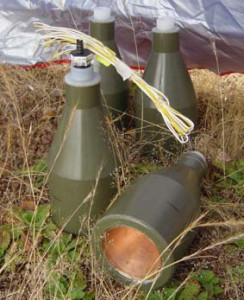 Designation: PC-P 100 (Point Charge – Plastic).
Material: Plastic.
Net Explosive Quantity (N.E.Q.): 900 grams (32ounce) (based on a liquid explosive fill – relative density 1.15).
Method of Initiation: Number 8* Detonator or doubled 10 gram/metre Detonating Cord tail.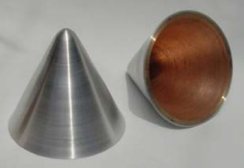 The PC-P 100 can be fitted with a metallic liner to improve penetration. Bimetallic liners can also be used – these produce a relatively clean hole by minimizing the slower moving "slug" associated with conical focused charges.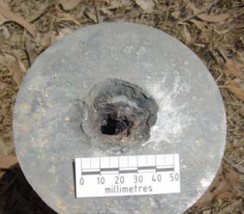 The PC-P 100 has been fitted with a bimetallic liner, stood off from the target and filled with liquid explosive.
When initiated, the charge produced a 10 to 13 mm (3/8 to 1/2 inch) diameter hole approximately 200 mm (8 inches) deep in mild steel bar.
MORE INFORMATION
Contact Havoc Industries' principal; Arran Gordon BEng (Hons)
Member of the International Society of Explosives Engineers
Mobile: + 61 (0) 419 512 911
Email: info@havoc.com.au