INTRODUCTION
DIAMOND SHEAVE – 12 mm FIBRE ROPE
These are a versatile, high speed snatch block based on similar devices available from the United States. As usual, we have incorporated a number of design improvements;
The holes at either end are sized to suit 3.2 tonne rated shackles or large "D" screw gate carabiners for rapid rigging or attachment.
The sides of the sheave are flat so they can be "stacked" together and connected with an M20 or 3/4 inch bolt to make a simple block and tackle.
The pulley is recessed into the side plates so relatively small diameter rope can also be run in the same sheave.
They have a working load limit of 1,500 kilograms (3,300 pounds).
These sheaves are not rated lifting equipment and are designed for use by suitably qualified and experienced riggers in the entertainment industry. They have been load tested to 10,000 kilograms – the side plates deformed slightly but the sheave did not fail.
THE DIAMOND SHEAVE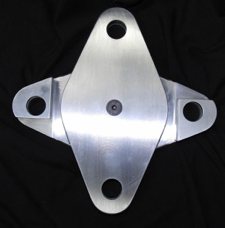 Materials: Aluminium side plates and pulley, stainless steel shaft and high speed, lip sealed ball bearings.
The pulley can be manufactured from steel for longer life on wire rope.
Finish: Plain aluminium (pictured) or hard anodized black.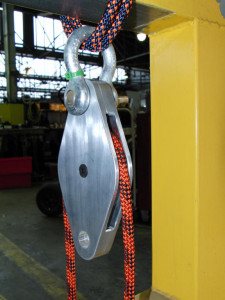 Showing the diamond sheave rigged.
3.2 Tonne Bow Shackle and 12 mm diameter rope.
MORE INFORMATION
Contact Havoc Industries' principal; Arran Gordon BEng (Hons)
Member of the International Society of Explosives Engineers
Mobile: + 61 (0) 419 512 911
Email: info@havoc.com.au