The Multi-Sequencer has been purpose designed and built for use in the special effects and pyrotechnics industry. It has been designed to allow fast development of complex switching sequences. The sequences can be trial run on the Multi-Sequencer, light emitting diodes (LEDs) on the front of the unit indicating the status of all the relays and inputs.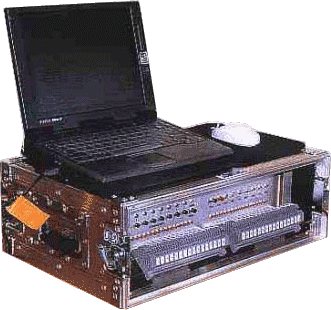 The Multi-Sequencer is a set of 32 computer controlled relay switches that permit highly accurate timing of up to 9 independent switching routines. The Multi-Sequencer controls switching routines of up to 4 hours duration in 10 millisecond increments. Switching sequences are planned or designed on a spreadsheet package (Microsoft Excel) and then transferred directly to the Multi-Sequencer.
The Multi-Sequencer offers a number of advantages over currently available switching systems;
Computer control allows the relays to be switched at any time interval, the relay kept closed for as long as desired and the same relay can be switched as many times as required.
The relays can be used for controlling pyrotechnics and any electrical device (solenoid valves, "electric over air" control systems, motors and lights). The relays are rated for 240 Volts (AC) at 15 Amps.
Each relay is independent and can be used to switch any voltage.
The first sequence is started by pressing a trigger button. Eight other sequences can be started by remote switches at any time. The trigger button can also be used to manually control relay switches in case the operator wishes to initiate specific events "by eye".
The Multi-Sequencer contains a programmable computer chip. The unit is "stand-alone" once the switching sequence has been down-loaded. That is, the computer or laptop used to program the unit can be disconnected.
The Multi-Sequencer could be used in conjunction with existing automatic firing boxes to execute complex switching sub-routines.
The spreadsheet-programming feature allows easy modification of the switching sequences. Commands can be added or deleted at any time during the development of the sequences.
MORE INFORMATION
Contact Havoc Industries' principal; Arran Gordon BEng (Hons)
Member of the International Society of Explosives Engineers
Mobile: + 61 (0) 419 512 911
Email: info@havoc.com.au