HAWK – PLAIN DETONATOR CRIMPER AND FUSE CUTTER
The Hawk Crimper and Cutter is designed to minimize the risk of injury during fuse capping. Standard detonators are now more powerful as mining explosives are less sensitive and more difficult to initiate. Number 8 (star) detonators are now the "industry standard" to reliably initiate emulsion explosives. The accidental initiation of a number 8 during fuse capping is likely to result in serious hand and eye injuries as the fragments of the case are propelled at very high speed.
FEATURES OF THE HAWK CRIPMER AND CUTTER
The Hawk Plain Detonator Crimper and Safety Fuse Cutter has a number of advantages over other devices;
Improved safety – The detonator is totally enclosed within the unit during crimping. In the event of an accidental initiation – the products of detonation vent away from the operator.
The Hawk can crimp detonators up to 7.5 millimetre in diameter and from 38 to 65 millimetres long. The detonator length can be easily adjusted.
The Hawk crimps down to a diameter of 4.5 millimetres at 3 (three) locations simultaneously. This provides a very secure connection that reduces the risk of moisture ingress.
The Hawk incorporates a razor sharp cutter for cutting safety fuse, shock (signal) tube or detonating cord. The blade is a standard 18 mm "snap off" utility knife blade and is easily replaced. The cutting anvil is heavy duty acetyl (Delrin TM ) plastic.
The Hawk is ergonomically designed for ease of use for large capping runs.
The unit can be bench mounted if required (bolt holes provided on the front of the unit).
PLEASE NOTE: If a detonator does accidentally initiate inside the Hawk Crimper YOU COULD STILL BE INJURED. Your hand could be bruised or jarred or, in the worst case, bones broken by the handle.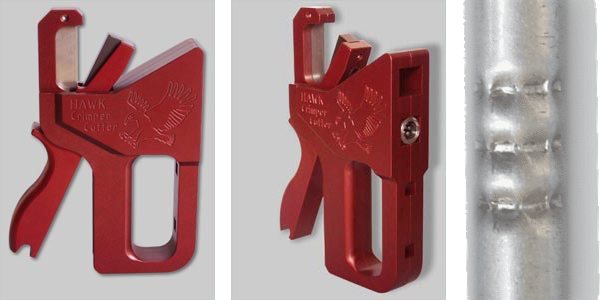 HAWK PRODUCT INFORMATION
The Hawk is designed and manufactured for a long, trouble free life. It is made from hard anodized aluminium or high strength plastic. The springs and fasteners are stainless steel. It is 210 millimetres (8.1/4 inches) long, 120 millimetres (4.3/4 inches) wide (maximum) and 40 millimetres (1.9/16 inch) thick. It weighs 1,050 grams (2 pounds 5 ounces).
The Hawk has been extensively tested on Orica IES and Ensign Bickford plain detonators and empty L1A1 military detonator cases.
MORE INFORMATION
Contact Havoc Industries' principal; Arran Gordon BEng (Hons)
Member of the International Society of Explosives Engineers
Mobile: + 61 (0) 419 512 911
Email: info@havoc.com.au